Cyclists face a constant threat from inattentive drivers. Vehicles enter lanes occupied by cyclists. Cars overtake bicyclists without maintaining a safe distance. We are bicycle lawyers who protect cyclists. We are one of California's top rated bicycle accident law firms and have recovered millions of dollars for injured cyclists. As cyclists, we understand what you're going through and we can relate to you. Call now and speak directly to your bicycle lawyer.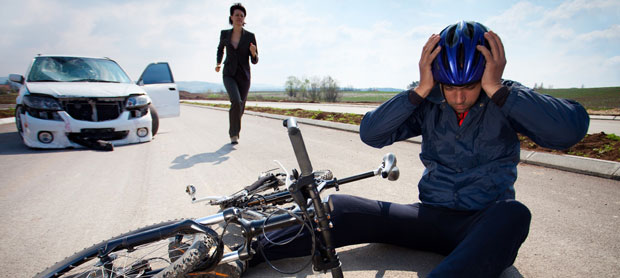 Cyclists Encounter Serious Right of Way Violations
Cyclists regularly face right of way violations, such as cars entering lanes occupied by cyclists, vehicles failing to maintain a safe passing distance, and other serious right of way violations. Only lawyers who are cyclists truly understand these dangers regularly encountered by cyclists. Bicyclists take extraordinary measures to prevent a collision. Drivers, in contrast, are distracted and less aware of their surroundings. In order to successfully hold a driver responsible, you'll need a bicycle lawyer who understands and fights for the rights of bicyclists. The lawyers at Injury Law Group are experienced bike lawyers who fight for bicyclists and have won millions of dollars for injured cyclists. We are one of California's top rated bike accident law firms. We stand behind cyclists and frequently take seemingly unwinnable cases, and through hard work and dedication we win them. We protect your legal rights to the fullest extent of the law and recover the maximum compensation for you.
Our Bike Lawyers Fight for Cyclists and Win
Due to the unique issues presented in cycling accidents, it can be challenging to convince the legal system, including lawyers who are not cyclists, that you had the right of way. You need a lawyer ready and willing to fight. Our bike lawyers understand the dangers that cyclists face on the road from right of way violations by distracted drivers. We are experts and proving those issues, and we fight hard for the rights of cyclists and win. Police reports are often biased against cyclists, especially if the officer is not a cyclist. Police officers may even take a one-sided statement from the other driver while you are in an ambulance. We are firmly vested in the cause to defend all cyclists. We educate and help the legal system understand both the precautions taken by cyclists to prevent an accident and the repeated right of way violations that cyclists must constantly avoid. We are a family of riders and cyclists. We genuinely care for you, we respect you, and we stand beside you until justice is obtained.